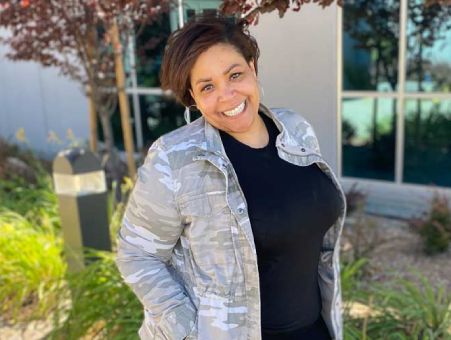 Gehanne Placide
SoCal CAG Sales Coordinator
"Gehanne Placide is ready to tackle any challenge thrown her way."
The Westphals built Bay Alarm on honesty, integrity, and hard work. When something seems impossible, we rise to the challenge and make it happen. And Gehanne Placide, our Southern California Corporate Accounts Group (CAG) Sales Coordinator, is always ready to roll up her sleeves and find a way.
Gehanne was born and raised right here in Concord near our corporate office. (Go Mt. Diablo Red Devils!) She discovered at an early age that, like her dad, an architect for PG&E, she has a natural curiosity and drive that pushes her to figure things out and solve problems. "If she doesn't have the answer, she'll go the extra mile to find it," said Carly Farrell, CAG Admin Supervisor.
And she's quick to lend a hand when she sees a need, "It's the way I was brought up, to do something for someone else, to be there and be available for people." Gehanne's brought this attitude to her 11 years at Bay Alarm, starting in Customer Care and working her way up to team lead before becoming a sales coordinator. Now, she supports an entire team of sales representatives in Southern California while working out of our corporate office in Northern California.
"Gen is about 600 miles from her closest sales rep, but her presence and energy are felt as if she's in the office with us."

– Brandon Plott, Corporate Accounts Sales Manager
As someone who loves to learn, Gehanne credits her mentors and believes in the importance of helping others to be their best. "Gen leads by example and has a great ability to encourage you to challenge yourself," said Marlen Mollique, AR Corporate Accounts Sales Coordinator.
Funny enough, she actually worked as a travel agent with Melodie Rincon, our second Bay Way Story, who then suggested that Gehanne join her at Bay Alarm. When she isn't working, Gehanne is always up for a weekend trip to Oahu unless she can get Raiders tickets (even if that means going to Vegas).
Gehanne, you're a wonderful example of the Bay Way!