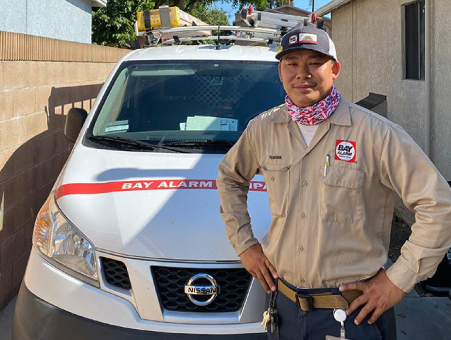 Veasna Koy
Service Technician III
"His desire to make a difference with every customer he encounters is the reason we call him the Yelp Master."
Veasna Koy is a Level 3 Service Technician at our South Bay Branch. You can call him Veasna or Ves—but to his team in Southern California, he's also the "Yelp Master."
Why the nickname? Ves is mentioned in almost 50% of the Yelp reviews for his branch…all with 5-stars. Tania Gallardo, the South Bay Office Manager, says, "His desire to make a difference with every customer he encounters is the reason we call him the Yelp Master." And Veasna's superior customer service has rocketed the South Bay Branch to a 5-star location on Yelp.
So, what's his secret? As far as we can tell, it's taking pride in his work and treating each customer as an individual. This commitment shows in more than just online reviews. Cal Methodist Baptist Church, a Bay Alarm customer, not only requests Veasna and recommends him to their parishioners, they even highlighted his work ethic in one of their sermons.
Veasna credits his honor, integrity, and commitment to his time in the US Marine Corps. And the pride in what he does comes from his previous mentor, Richard Hammond, who "lived and breathed Bay Alarm," as well as his current mentor, Scotty McCoy. When asked what he loves about Bay Alarm, Ves says, "Everyone wants to see you succeed, all the way from the Westphals down. The commitment the Westphals have for their employees, especially during the pandemic, was different than any other company I have worked at."
When he isn't taking care of customers, you can find Veasna enjoying the outdoors, listening to the water crash and feeling the cool breeze of the ocean. He is also a proud family man with a son heading off to college soon.